Departure Time:
7:26
Arrival Time:
8:15
Same as yesterday...pretty good!
Weather:
Sunny and clear skies...a little colder than yesterday.
Paper Guy:
It must be blue vest weather. He was wearing it with the shades.
Shady Gas Price:
$2.71 No effects from Rita yet(?)
Yelled and Beeped at someone:
Once. Some people in town do not like to stop at intersections when they are turning right. I hate that. I let them know they need to stop....I like to hold up my hand like a traffic cop after I make eye contact.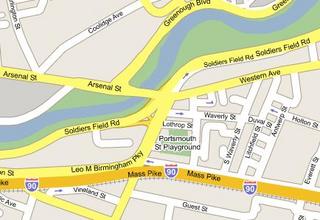 Tip of the day:
When you are traveling west on Soldiers Field road, right after the intersection with Arsenal St. (Traffic is actually diverted underneath the intersection), make sure you are in the right lane. There is always one or two cars that need to turn left to get into the Acura dealership. If you get caught behind them in the left lane, you will be there for a while....Take it from me, I realized at the last minute "wha' happened" and then I was stuck. whaa.